Roald Dahl: Author of Charlie and the Chocolate Factory (Authors Teens-ExLibrary 9780766023536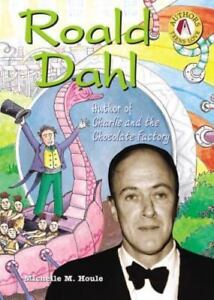 About this product
Synopsis
- Biographies of authors that teens love- Includes personal interviews with popular authors- Insightful quotes by and about each author- Author's perspective of the writer's craft- Supports the Language Arts curriculum- Please see each title for page count- Illus. with color or black-and-white photographs and illustrations- Contains an In Their Own Words section, a timeline, published works, Internet addresses, chapter notes, and an index Roald Dahl was a British writer responsible for authoring some of the best known and most popular books for young people ever published, including CHARLIE AND THE CHOCOLATE FACTORY, JAMES AND THE GIANT PEACH, and MATILDA. CHARLIE AND THE CHOCOLATE FACTORY, the story of a group of children who get to tour a strange and fantastic candy factory, has been adapted into a classic film twice-first in 1971 (re-titled WILLY WONKA AND THE CHOCOLATE FACTORY, starring Gene Wilder) and then again in 2005 (directed by Tim Burton and starring Johnny Depp).
Product Identifiers
ISBN-10
0766023532
ISBN-13
9780766023536
eBay Product ID (ePID)
46874348
Key Details
Author
Michelle M. Houle
Number Of Pages
104 pages
Series
Authors Teens Love
Format
Hardcover
Publication Date
2006-04-01
Language
English
Publisher
Enslow Publishing, LLC
Publication Year
2006
Additional Details
Copyright Date
2006
Illustrated
Yes
Dimensions
Weight
14.1 Oz
Height
0.5 In.
Width
6.6 In.
Length
9.5 In.
Target Audience
Group
Juvenile Audience
Grade From
Seventh Grade
Grade To
Twelfth Grade
Age Range
12 - 17
Classification Method
LCCN
2005-014914
LC Classification Number
PR6054.A35Z695 2006
Dewey Decimal
823/.914 B
Dewey Edition
22
Reviews
..."a highly readable format ... a good choice for middle school and junior high school libraries."